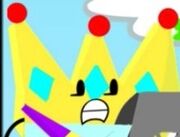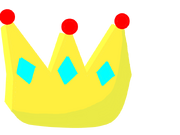 Crown, labeled
the Royal Fatty,
 is a wired,funny,and personality changing contestant.Out of all of the contestants,crown is the most fat and biggest of all contestants.Crown has a rare chance of winning TOATI.Also,like
Shell
, she is the 2nd most wiredest charecter on the show. Crown was eliminated by the contestants on episode 5. Chili pepper had 1 vote, icicle had 3 votes, and crown had 4 votes. The only differences between crown and spongy from bfdi is that crown is not smelly, and that crown is heavier, and crown is a royal object unlike spongy.
Personality
Edit
Crown's personality is wired,funny,and nervous when she has a risk of being eliminated.Due too crown's personality, she was eliminated very early(4th).Crown's elimination was unknown(just like Shell).Crown has 07.31 chance of rejoing back to the game(which is really low).
Apperance
Edit
Crown's apperance is sometimes shy and funny competitor.Out of everybody,crown is the most biggest due to him being fat.Crown's elimination was early for some reason,and actully nobody knows at all.Mabey the elimination is probably due to looking like spongy which is really dislikeable.
Information
Edit
Gender: Female
Episode Eliminated: This party's killer
Place: TOATI: 21st
Friends: Pizza(possibly), Volleyball
Enemies: Boomerang, Bowling Ball, Skittle, Claw, Icicle, Football, Master Revenge Token
Ad blocker interference detected!
Wikia is a free-to-use site that makes money from advertising. We have a modified experience for viewers using ad blockers

Wikia is not accessible if you've made further modifications. Remove the custom ad blocker rule(s) and the page will load as expected.